Joanna Grigoriadou
Recruitment Lead – TP Crete

 Recruitment Lead, Crete
To live and work abroad was something I always dreamed of. Maybe this is a dream of yours too? 
To move to a foreign country was of course very terrifying and very exciting at the same time. While we enjoy comfort, we crave experience, therefore I think you need to step out of your comfort zone and dare to take the step to move abroad. Regardless how long you stay you will come home with an experience richer.   
People always ask me if I never miss Sweden, and to be honest – I don't miss to live and have my life in Sweden, but of course I miss my friends and family. The most amazing thing about move abroad is that you will definitely always be part of two worlds – your old and your new home. 

Teleperformance Nordic gave me the chance to grow within the company and for myself. And for that, I'm very thankful.
For anyone reading this and is thinking about move abroad and join us here in Crete – Take the chance, I have done the same journey as you, and will help you in the best way possible!
 Get to know me more:
I have played soccer since I was 5 years old. Are you in for a game? ;)
Swedish candy is the best thing I know, give me this and you'll have my heart forever!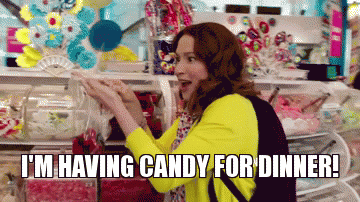 Psst... The GIF above is why I love to be an adult!