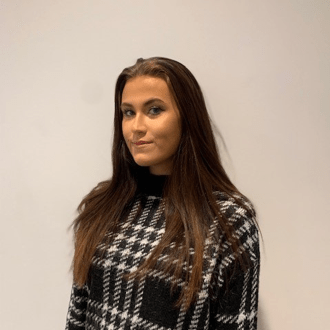 Gilda Eriksson
Customer Service Representative – TP Sweden
Hur har din resa sett ut på Teleperformance och vad har du för arbetsuppgifter?
Jag började jobba på Teleperformance under september 2020 som kundtjänstmedarbetare på ett av våra projekt. Jag jobbade med kundtjänst som riktar sig mot privatpersoner från oktober-december 2020 innan jag fick förfrågan om att börja jobba på projektets butikssupport. Jag jobbade som telefonagent på butikssupporten för svenska kunder från januari 2021 men har sedan november gått över till den norska butikssupporten, vilket är en kul utmaning. Mina arbetsuppgifter har varierat en del sedan jag började på Teleperformance. Min främsta arbetsuppgift har varit support över telefon, men utöver detta mejlar jag även dagligen och hjälper nyanställda med assistans och frågor både för butikssupporten och kundtjänst.

Vad är det bästa med att jobba på TP?
Det jag uppskattar allra mest med att jobba på Teleperformance är alla härliga människor man jobbar med. Jag känner alltid att det finns nån jag kan fråga om jag behöver hjälp, det finns alltid någon att sitta med på lunchen och vi har en grym teamkänsla. Utöver detta uppskattar jag att det finns möjligheter till att testa något nytt i form av till exempel att byta team, roll eller arbetsuppgifter. Det är skönt att veta att inget är förbestämt och att det finns möjlighet till förändring om något inte skulle passa ens behov.

Vad är ditt favoritcitat/motto?
"You miss 100% of the shots you don't take"