TP Finland
·
Tampere
·
Hybrid Remote
Asiakaspalvelija, Contact Center (inbound)
Jätä avoin hakemus asiakaspalvelutiimeihimme
Onko tavoitteesi päästä työskentelemään asiakaspalvelun parissa ja oletko innokas tarjoamaan asiakkaille laadukasta ja asiantuntevaa palvelua?


Etsimme uusia tiimiläisiä Teleperformancen eri projekteihin asiakaspalvelun puolelle!

Kiinnostaako sinua vaihteleva ja monikanavainen asiakaspalvelu, jossa voit palvella asiakkaita esimerkiksi chatin, sähköpostin ja puhelimen avulla? Mahtavaa, lue lisää alta!
Mitä odotamme Sinulta?
Olet huumorintajuinen ja mukava työkaveri jolla on asiakaspalveluasenne kohdallaan. Aiempi työkokemus asiakaspalvelutehtävistä on eduksi, mutta ei missään nimessä välttämätöntä, sillä opetamme sinulle kaiken mitä työssäsi tarvitset.
Asiakkaita palvelemme jokaisessa tiimissä suomeksi ja englanniksi, ruotsin kielen osaaminen katsotaan ehdottomasti eduksesi. Olethan täyttänyt jo 18 vuotta.
Työ alkaa: Sopimuksen mukaan
Työaika: ma-pe 7:00-19.00 välillä (työaika vaihtelee tiimeittäin, kaikissa ei ole aikaista aamua, eikä iltavuoroja)
Työsuhde: Vakituinen tai määräaikainen, sopimuksen mukaan (täydet tunnit ja osa-aikainen työ onnistuu)
Palkka: 11,34€/h + mahdollinen projektikohtainen kannuste
(Ruotsin kielen osaajille maksamme 1€/h kielilisää!)
Työehtosopimus: PAM TES (Asiakaspalvelu- ja telemarkkinointialaa koskeva työehtosopimus)

Miksi Teleperformancelle?
Varmistamme, että saat tarvitsemasi perehdytyksen ja ohjauksen työhön, jotta voit menestyä hommassa heti alusta alkaen. Tiivis yhteistyö kouluttajan ja tiiminvetäjän kanssa auttaa Sinua kehittymään ja saat vinkkejä myös kokeneilta kollegoilta. Palkallinen koulutus varmistaa, että pääset sisään oman projektisi kuvioihin ennen varsinaisen työn aloitusta. Koulutuksen ja perehdytysjakson jälkeen sinulla on mahdollisuus siirtyä etätöihin tai hyödyntää hybridi-mallia.
Meiltä saat työpaikan yrityksessä, joka satsaa jokaisen työntekijänsä ammatilliseen ja henkilökohtaiseen kehitykseen. Tarjoamme työkalut sekä opit joista on sinulle hyötyä myös muilla aloilla jatkossa. Yrityksemme on Great Place to Work-sertifioitu ja jokainen työntekijä on meille enemmän kuin kollega. Moni on solminut elämän mittaisia ystävyyssuhteita meillä työskennellessään!
Kiinnostuitko?
Hienoa, hakemusta vain rohkeasti sisään urasivujemme kautta! Huomioithan, että etenemme haastatteluihin jo hakuaikana, joten nopeus saattaa olla valttia. Annamme mielellämme lisätietoja eri projekteista!
HR Recruiter Amanda Metsoja
(amanda.metsoja@teleperformance.com, +358 50 444 9750)
HR Consultant Reea Helminen
(reea.helminen@teleperformance.com, +358 50 598 7481)
Pääset tutustumaan rentoon yrityskulttuuriimme tarkemmin myös Instagramissa @teleperformance_finland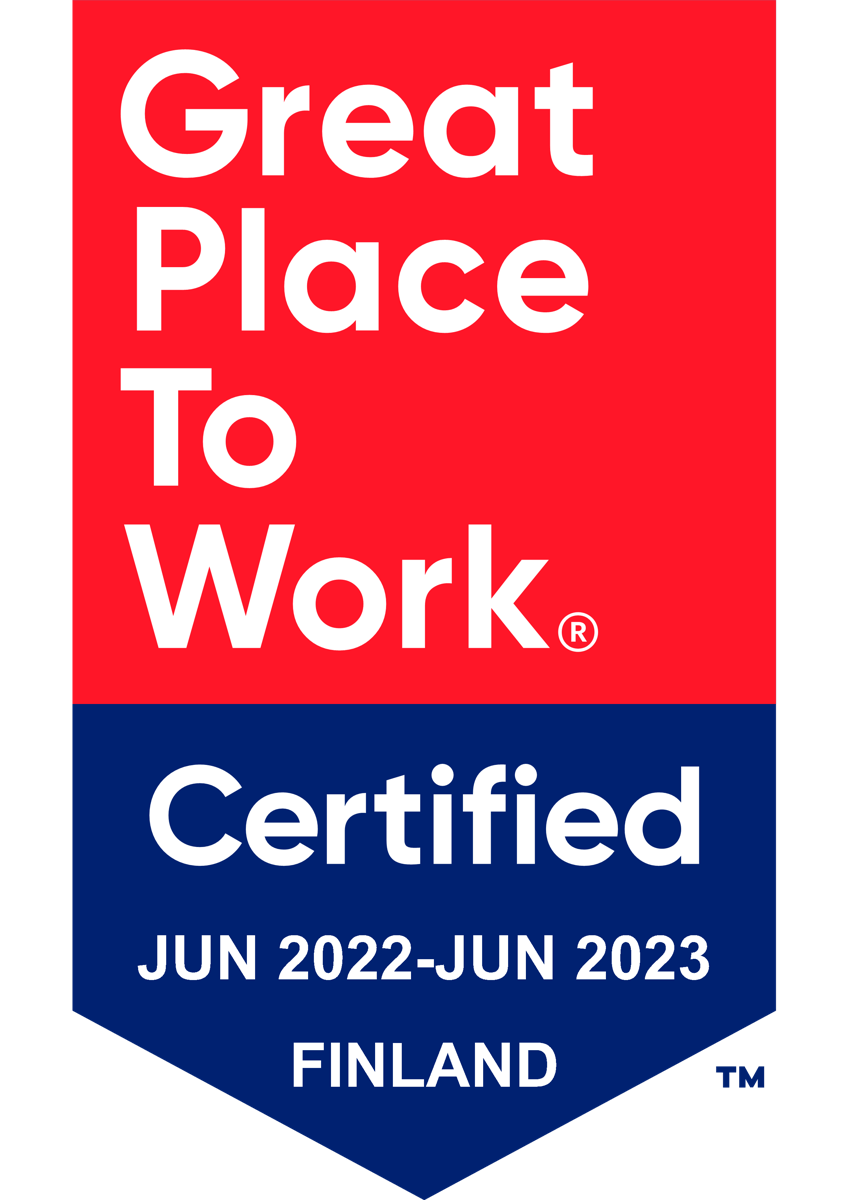 Teleperformance, the global leader in outsourced omnichannel customer experience management, serves as a strategic partner to the world's leading companies in a wide variety of industries. Its customer care, technical support, customer acquisition, consulting & analytics, digital integrated business service solutions and other high-value specialized services ensure consistently positive customer interactions that are reliable, flexible and intelligent. The company has established the highest security and quality standards in the industry and uses proprietary deep learning technology to optimize flexibility on a global scale. The Group's 420,000 employees, spread across over 80 countries, support billions of connections annually in 265 languages and enhance the customer experience with every interaction. Check more info from www.teleperformance.com
Fraud Warning: Teleperformance hiring managers only use @ teleperformance.com email addresses to contact you. If you receive emails from Teleperformance hiring managers from any other addresses or personal email accounts, please contact us at hr@teleperformance.fi

Team

Role

customer service

Locations

Remote status

Hybrid Remote
About Teleperformance Nordic
Teleperformance Nordic is part of the multinational Teleperformance, which is the largest company in the industry worldwide, with more than 420,000 employees throughout the world in 88 countries.
We are disrupting and transforming the industry for more than 40 years. Our job is to connect the most prominent and most respected brands on the planet with their customers, bringing solutions and always making sure that each interaction matters.
Coworkers
2500 (Nordic Region)
TP Finland
·
Tampere
·
Hybrid Remote
Asiakaspalvelija, Contact Center (inbound)
Jätä avoin hakemus asiakaspalvelutiimeihimme
Loading application form